So, I'm on the street shooting these demos
where people are demanding that Emperor-Elect Timberlake "say something" about the Israeli rape of Gaza, as if with enough pressure – if you call sign-waving and delivering white roses "pressure" – he'll suddenly have a Eureka Moment and go on TV and "do the right thing".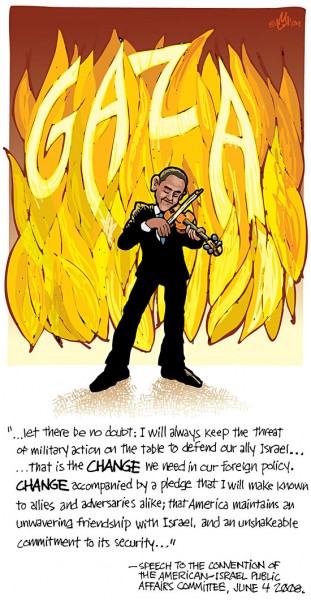 Now, I often like to joke around with my friends about how most Americans' long-term memories don't go back past the last episode of "Desperate Housewives", but lately it seems to be the dead-assed truth, and that includes The Movement™. Anyone who thinks that Obama actually has substantially different ideas about the situation that he's just waiting to express until he's officially El Presidente has obviously already forgotten his notorious wet, sloppy blowjob of a speech he delivered to last year's AIPAC Convention shortly after becoming the presumptive (spit) Donkeycratic Party nominee for Maximum Leader.
So, everybody, just knock it off about getting Barack Obombirana to "speak up" about the slaughter of Gaza. The guy's already said everything he needed to say about Gaza in that lickspittle AIPAC speech.
Check it, gang...
Medium-res jpg image,
720k