Another personal favorite, this was commissioned by The Progressive magazine
for a Counterinaugural event they were sponsoring as part of the weekend of protests coinciding with the Second Chimp Coronation.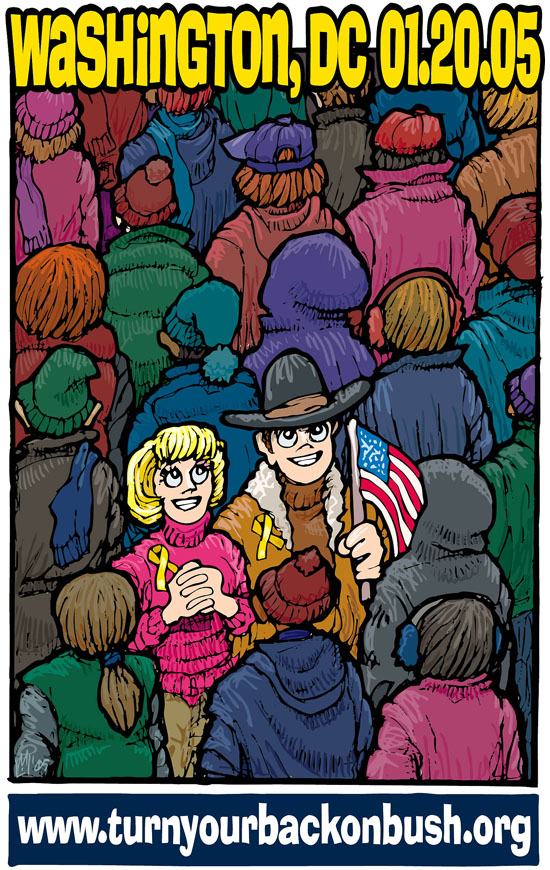 Truthfully, though, I have to confess to not having been in DC during the Chimp's Second Coronation as my wife and I decided we weren't into hanging around here in the miserable depths of January, freezing our asses off in some fenced-off "free speech zone", and chose instead to spend the week in relatively balmy New Orleans, watching our comrades shivering in bone-cold Washington on TV. Let's face it, it was a helluva lot more fun hanging out in little jazz dives drinking beer until closing time, then stumbling down to Cafè duMonde for black coffee and beignets at 3am. Happily, though, we managed to find ourselves in a big, healthy, counterinaugural protest anyway -- the Jazz Funeral For Democracy, held on a sunny, dry, 70-degree day, featuring a couple of real live New Orleans marching jazz bands in a traditional funeral parade that started at Congo Square and marched through downtown to a rally at Jackson Square, followed by a "second line" that marched through the French Quarter, finishing off at a gig at this cool little joint with a mean-assed blues band and the all-important cheap beer. God damn, they really do know how to throw a protest down there in the Big Easy.
Medium-res jpg image,
774k