I always hated listening to Democrats and Liberals bitching about government abuses in the name of "fighting terrorism" under George W. Chimp,
as they always seem to forget that their own boy, Bubba Clinton, wanted to do just about the same things after the Murrah Federal Building bombing in Oklahoma City. Who were the first people he wanted to go after? Go on, take a guess. Not surprised? Neither was I, hearing that President Bill's number-one target under his prototype Patriot Act was the Left. The crackpot "militias" in Montana, Michigan and Idaho -- guys who had actual guns and openly professed a willingness to use violence against their opponents, guys like OKC bomber Timothy McVeigh -- apparently were no huge threat, until Clinton needed the threat of rightist violence to scare people into accepting his authoritarian "anti-terror" measures... and then, oh, yeah, the rightist militia cranks were the goddamn' Enemy Of The Month. Never mind that Mr. Crime Fighter, Mr. Put Several Hundred Thousand More Cops Onto The Streets, Mr. Three-Strikes, never appeared to lift a finger on the womens' clinic shootings and bombings. Nahh, Mr. Crime Bill's first instinct here is to go for the crowd pleaser, and jail the Left -- as per usual.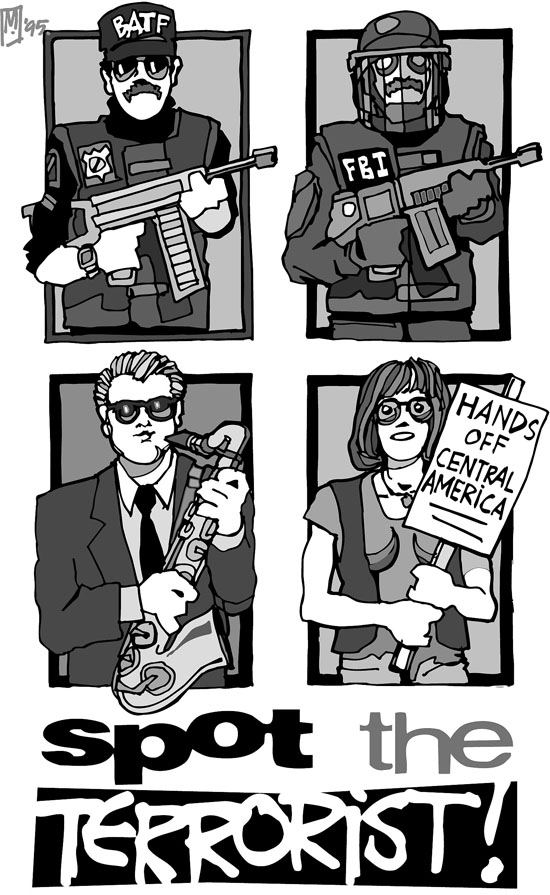 So, some years later, when I saw the Government's response to 9/11 -- basically, the Oklahoma City response dialed up to 11 -- I wasn't all that surprised (unlike all the pants-pissing Liberals around me), having seen it all before from a Democratic administration, that of the Clinton Mob... but just try and point that out to your average mindless partisan Liberal, and watch their goddamn' heads explode from cognitive dissonance overload.
Medium-res jpg image,
576k