This piece was pretty much the last political cartoon I did for nearly six years
-- for what was probably the last Counterinaugural event put on by the old NYC YIP posse that I know of. Not having the Internet in those days, getting your message out and networking with folks of like mind were damn' near impossible in the face of growing media oppression (in the form of increasing Drug War propagandizing) and growing hostility by society at large towards anyone or anything "different".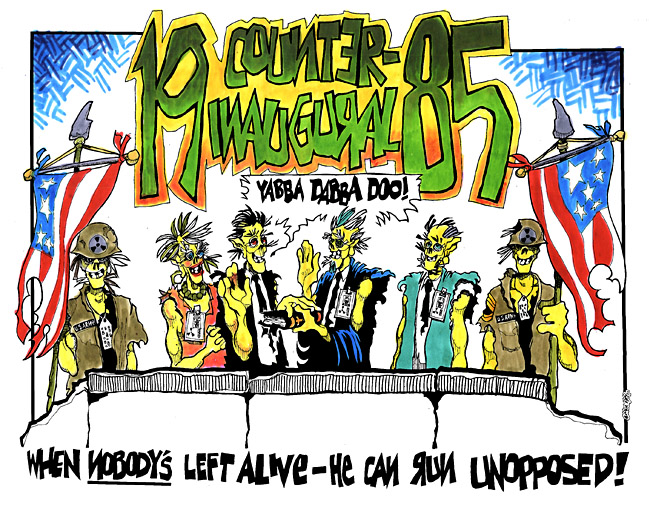 Left activism and political cartooning, in this kind of environment, were getting to be a seemingly hopeless grind of years with no hope of results, and often backward progress. The Yipster Times/Overthrow outfit put out its last issue at or about 1986 or so, and outlets were becoming scarce already before that. Rather than give myself a nervous breakdown howling into the wind, I went back to doing what I enjoyed in art school: happy partying hippie comix, hippies happily outwitting cops comix, hippies trying to nab spare Dead tickets comix, at the Dead Relix fanzine, also out of New York. It didn't pay much more than weed money, but I already had a day job, and had an outlet to do entirely fun cartoons with no redeeming political commentary whatsofreakinever, at least for a few years.

medium-res jpg image,
323k;
high-res tif image,
4.9mb