November of '98, heading towards the end of The Good Old Clintontime,
saw the by-now usual Sunday morning spew about the Clinton Legacy. Predictably, this took the form of gushing about "welfare reform" and his Crime Bill, but not a whole lot about the things that were really on peoples' minds -- like the Chinese takeover of American manufacturing, and stagnating wages. What we did hear a lot about, as well, was how well he dealt with the Iraqis, and his decisive action in his missile attacks on The Sudan and Afghanistan -- which turned out to have targeted civilians (as usual) and were timed so soon after his video testimony in the Lewinsky Scandal that it could've been the premise for a movie
(what? wait a minute...)
...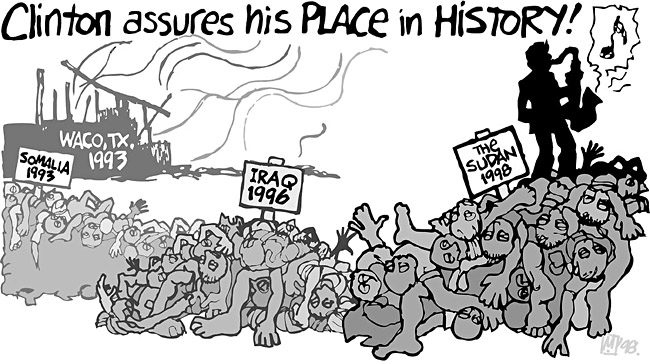 ...which brings us to the real Clinton Legacy, the legacy of one of most right-wing and violent Administrations ever to be winked at and given a free pass by desperate, fawning, attention-whoring American Liberalism. Let's see... there was extra-Constitutional military violence against Iraq (twice), the Sudan, Afghanistan, Somalia, Serbia; threatening and dick-wiggling at North Korea, Bosnia, and Iran -- not to mention the military assault on the Branch Davidian outfit, with young children and elderly inside, right here in the good old USA. All this -- on top of assaults on the Constitution at every possible opportunity, most notably in the form of the 1996 Communications Decency Act which sought sweeping censorship powers over the then-emerging Internet and which was deservedly smacked down by the Supreme Court -- gave President Elvis Clinton a legacy that any modern head of state could envy, if his name happened to be Deng Xiaoping.
Medium-res jpg image,
120k