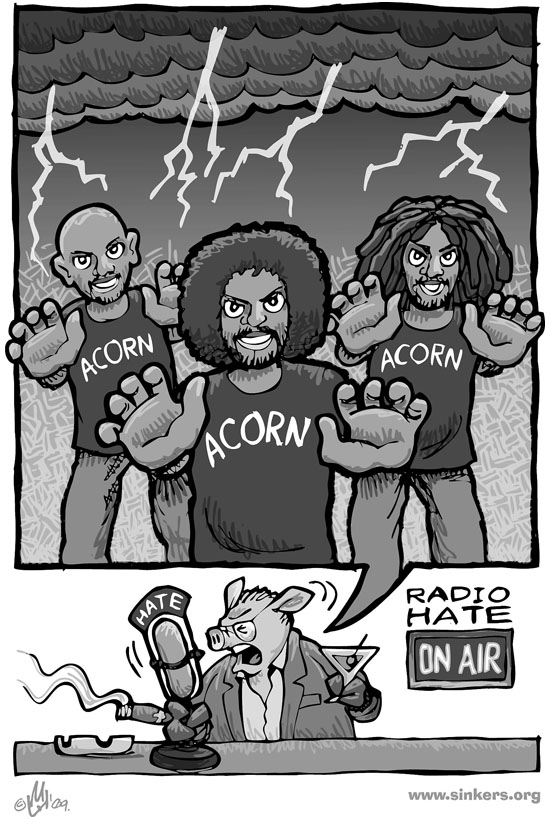 Medium-res jpg image,
608k
Just so we're on the same page, here:
community organizing group ACORN registered large numbers of black voters in Chicago for the last big "election". As is common in many registration campaigns, there's a fair number of wise-asses registering dead peoples' names, or fake names. Also, as is required by law by boards of elections in any US city I've been to, any bogus/invalid registrations are reported, to keep the voter rolls cleared of all the dead people, and all those Luke Skywalkers and Donald Ducks.
So, anyway, outfits like the Drudge Report (has anybody informed that bonehead that the '90s are over?) get hold of this and, in their own predictable, inimitable fashion, proceed to blow this up into some kind of bogus "scandal" and throw it to the rightist k00k crowd like so much fresh, raw meat. Still, you've got to love Drudge, if only because he carries on in the finest shrieking tabloid tradition -- never let the facts get in the way of a good story -- along with providing us all with some good cheap laffs.
Now, just to refresh your memories, one more time, here's the video of a small group of black youth selling little plastic flags at the
September 12 Teabaggers' rally
being threatened and harassed, and accused of being
"ACORN People"
(as if there were something wrong with that in and of itself)...